4 Tips for Imagining Possibilities
in 2017...and beyond!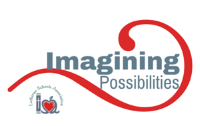 Happy 2017!
When asked what Lutheran Schools Association exists to do, I can rattle off a list of the various actions that we take on a yearly, monthly, weekly basis. Blah...blah...blah. Or, I can sum it up in a succinct way: We imagine possibilities with and for Lutheran schools.
This idea of imagining possibilities is not solely a task for an organization like Lutheran Schools Association. Leaders must engage in this work all the time. So, in honor of ringing in the new year, below are some tips for engaging in the all-important work of Imagining Possibilities. (Need some info on why it's important? Check that out here.)  
Structure, a bit. Intentionally plan in the time, but don't limit yourself - visioning takes time and energy. If you don't set the intention, you may never get around to it. If you don't allow flexibility, you may never get where you need to. Some more tidbits can be found in this list.
Write it down. Also in this article, another great piece of advice. Jot it down - when you engage in visioning, be sure you document it in some way. Whether you record a voice note, type it up (perhaps start a file/document for your possibilities thinking), or jot it in a journal, you can be more effective in the long run by taking the time to record your ideas.
Allow all possibilities in. Just because something has always been done a certain way, or because it didn't work out a few years back, doesn't mean it can't work now. Before you dismiss an idea (whether from yourself or another stakeholder), give it some time to marinate. IDEO has several mantras, one of which is that at the start of visioning, you can't "ding" an idea. Adopt that thinking.
Engage others. A former colleague once shared a nugget that has stuck with me: "You can't be the smartest person you know." In the context of visioning and imagining possibilities, this rings true. We should always be seeking out others in the interest of collaboration, challenge, and betterment. If you have all of the ideas, all of the time, you are likely missing some really great opportunities. Who might you engage in imagining possibilities for your school?
And, if you need some help, just ask! As a member of LSA, we're here to help you imagine possibilities. Reach out today and we can work with you, connect you to others, and help you reach the next step in your school's mission. Let's imagine possibilities, together!